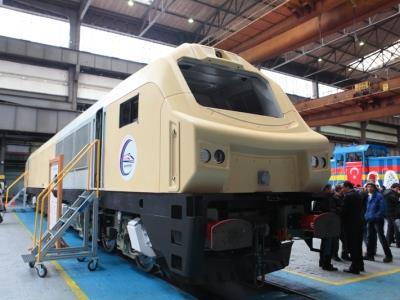 TURKEY: Plans to build 50 PowerHaul diesel locomotives in Eskişehir over the next two years were announced by General Electric and Tülomsaş on January 14. Under the strategic partnership between the two companies, the Turkish builder is to assemble 20 locomotives for state railway TCDD and a further 30 for 'regional export markets' in Europe, the Middle East and North Africa.
The deal was announced by GE Transportation President & CEO Lorenzo Simonelli at a ceremony in Eskişehir to mark the roll-out of the third PowerHaul to be assembled in Turkey. Other VIPs at the event included Tülomsaş Chairman & Director General Hayri Avcı and Gökhan Bayhan, GE Transportation's General Manager for Russia/CIS, Europe and the MENA region.
Simonelli said the partnership would make significant contributions to Turkey's aim of becoming a centre for scientific and technological innovation. 'GE Transportation is partnering with Tülomsaş to provide its leading technology and expertise contributing to Turkey's 2023 vision to invest in innovation and develop the technological advancement of its railway infrastructure', he explained. 'Our partnership will create sustainable manufacturing employment opportunities in both Turkey and North America'.
GE says it is investing more than US$150m in design and development of the PowerHaul and technology transfer to Turkey. In the longer term, the partners expect to manufacture between 50 and 100 locomotives a year, of which up to 70% would be exported, generating potential export revenues for Turkey of up to US$1·5bn.
Described by Simonelli as 'a state-of-the-art locomotive with significantly more hauling capacity, better fuel efficiency and low emissions', the six-axle PowerHaul has a V-16 twin turbo diesel engine rated at 2 750 kW, which meets European Stage IIIa emissions standards. The modular design is intended to offer a flexible platform permitting easy adaptation to local requirements.