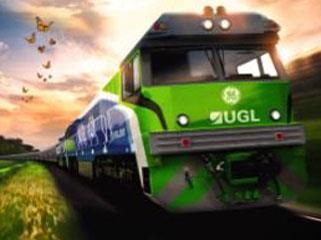 AUSTRALIA: GE Transportation and Australian manufacturing partner UGL Ltd officially announced plans for a 1 067 mm gauge version of the PowerHaul Series locomotive at AusRail Plus in Brisbane on November 22.
The 3 700 hp PH37ACmai is intended for heavy haul and fast freight operations on the narrow-gauge networks in Queensland and Western Australia. A standard gauge version is also under consideration, but at present there are no plans to put this into production.
UGL intends to build two prototype narrow gauge locomotives next year as demonstrators for revenue service trials with an unspecified operator; GE confirmed discussions are currently underway with 'several prospects.'
The locomotives will be assembled at UGL's Newcastle plant in New South Wales during the second half of 2012 and enter service in the first quarter of 2013. The main locomotive platform and bodyshell will be manufactured in Australia, although fabrication of some components is to be outsourced to India. GE will supply the engine and traction package.
According to UGL, the Australian PowerHaul will be 'somewhat different in appearance' to the locomotives GE Transportation has delivered to launch customer Freightliner in the UK, but the underlying technology will be the same.
UGL has not been active in the narrow gauge market for some years, but the company hopes to operate two production lines at Newcastle over the longer term, assembling Evolution Series C44s for the standard gauge market and PH37s for narrow gauge customers.
PowerHaul is designed to meet the EU Stage IIIA emissions requirements and can be adapted to meet Stage IIIB. The Australian locomotives will feature Flexicoil bogies, and GE's Trip Optimiser system to facilitate fuel-efficient driving.
'We have undertaken significant investment, along with GE, to develop a narrow-gauge locomotive product that represents a considerable advancement in locomotive power technology', said UGL Managing Director & CEO Richard Leupen. 'The PowerHaul Series locomotive will provide customers with substantial improvements in haulage capability, emissions, fuel efficiency, power and reliability.'
UK operator Freightliner placed an order for up to 30 PowerHaul locomotives in November 2007, and the first of these, designated Class 70, was delivered two years later. In February this year a demonstrator locomotive for the European and Turkish market was rolled out by Turkish manufacturer Tülomsas, which assembled it from a kit supplied from the USA.