Pesa's SM42-6Dn hydrogen shunting locomotive was tested at Ciech Group's sidings in Inowrocław on November 9. This will help inform Ciech's plans to replace its diesel shunting locomotives. 'We have two grounds for satisfaction: firstly, there is another client interested in our SM42-6Dn; secondly the locomotive, as part of normal shunting movement, pulled a 43-car train at 10 km/h with a gross load of over 2 200 tonnes in continuous operation, confirming its high operational parameters', said Maciej Grześkowiak, Director of Strategic Initiatives & Communication at Pesa. 
On November 16 BLS Cargo CEO Dirk Stahl was re-elected as President of the European Rail Freight Association for a further two-year term, and Maciej Gladyga, Managing Director of the Land Transport Chamber of Commerce of Poland, was re-elected Vice-President.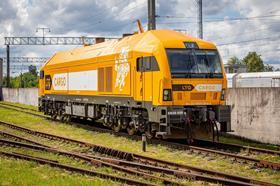 Lithuania's LTG Cargo plans to procure up to 500 grain wagons, with an initial order for 300 new wagons for delivery from 2024. It said there is growing demand for efficient grain transport, and the wagons would be used primarily on domestic routes to the port of Klaipėda. Grain traffic currently accounts for around 13-14% of its total freight volumes and is growing.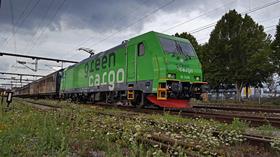 At the end of October, the European Union Agency for Railways granted Green Cargo a single safety certificate covering Sweden, Norway, Denmark and valid for five years. The operator was previously certified by Swedish agency Transportstyrelsen.
On January 1 BNSF, JB Hunt and GMXT are to launch an intermodal service between the USA and the Monterrey, Silao-Bajio and Pantaco-Mexico City areas through the Eagle Pass border crossing in Texas. This will be one day faster than the existing service from Monterrey to Chicago. There will also be an alternative option through the El Paso border gateway.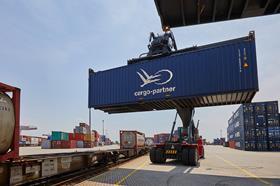 On November 14 Cargo-Partner launched the construction of a third warehouse hall at its iLogistics site at Dunajská Streda in Slovakia. This will almost double the storage capacity to 50 000 pallet spaces. 'We can unload containers arriving by train from the ports of Bremerhaven, Hamburg, Koper, Rotterdam, Trieste and Istanbul directly into our warehouse, eliminating the need for truck transport', said Tibor Majzún, Managing Director for Slovakia. 
A partnership has been formed to offer automation technology developed by US-based self-driving vehicle company Coast Autonomous with Nexxiot's digital systems for wagons and containers. 'We have a range of autonomous vehicles performing a variety of mission critical use cases at industrial locations across the USA', said Coast Autonomous Chairman David M Hickey. 'It makes perfect sense to fuse data from the Nexxiot sensors to identify railcars and specific containers even when stacked.'
CN has signed a memorandum of understanding with the Mississippi State Port Authority and Ports America to establish an intermodal service from Gulfport. 'It will provide shippers with new ocean connectivity options to move goods between the Gulf Coast, US Midwest and Canada', said Dan Bresolin, Vice-President of Intermodal at CN, on November 8.