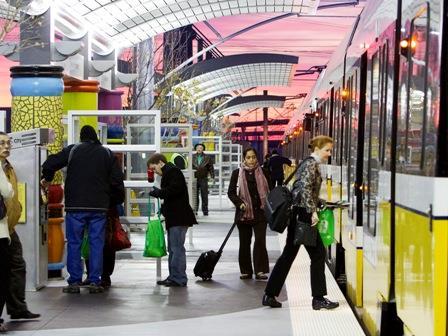 USA: The Federal Transit Administration has given a total of $182·4m in advanced funding to seven rail projects which are already underway. The money is being awarded ahead of schedule using unallocated funds from FTA's 2010 New Starts budget.

'By making these payments now, we're not only fulfilling the federal government's commitment to these projects sooner, but we're also giving a well-timed boost to communities that have made an important investment in their transportation infrastructure', said Transportation Secretary Ray LaHood. 'We want to keep the projects moving and save these cities money over the long haul.'

The recipients include:
• Dallas Area Rapid Transit Green Line (already completed), $17·8m;
• New York MTA Long Island Rail Road East Side Access, $44·3m;
• New York MTA Second Avenue Subway, $40·7m;
• Metropolitan Washington Airports Authority Dulles Corridor Metro extension phase 1, $19·8m;
• Utah Transit Authority Mid-Jordan LRT extension, $20·6m;
• Utah Transit Authority FrontRunner North Commuter Rail, $16·5m;
• Seattle Sound Transit University Link 
LRT extension, $22·7m.

The advance payments will release local funds that can be transferred to other transport projects.