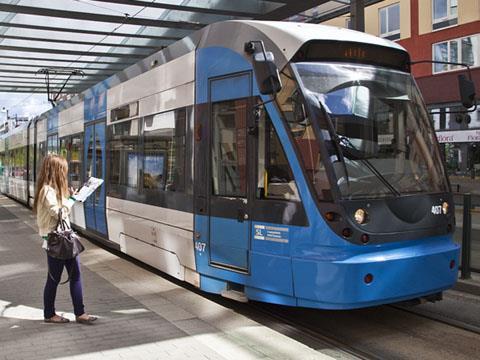 SWEDEN: Stockholm Transport authority Storstockholms Lokaltrafik has awarded GE Transportation a €36m contract for signalling work as part of the expansion of the Tvärbanan orbital light rail line in the southern suburbs of the capital.
The contract announced on June 8 covers the provision of a traffic control centre, lineside signals and onboard equipment for the resignalling of the existing 19 km Tvärbanan, provision of equipment for the 7 km Alvik - Solna extension to be completed by December 2012, and resignalling the Saltsjöbanan local rail line which is to be rebuilt to light rail standards by 2016 with a connection enabling Tvärbanan trams to reach Slussen.
The contract includes an option for the planned northern extension of Tvärbanan to Kista, and resignalling the 6 km Nockebybanan and 9 km Lidingöbanan tram lines.
'Our technology will benefit users by allowing more trams to run on the same line while reducing waiting time for rail users', said Pierre Comte, President & CEO of the Intelligent Control Systems business. 'By providing the latest in signalling technology, we not only increase our footprint in Europe, but also help establish GE Transportation as a major player in the urban transit sector.'
The first phase of Stockholm's SKr288m City Tram project will open on August 23, with the Djurgården heritage tram line from Waldemarsudde to Norrmalmstorg extended to Sergels Torg. The full project will be completed in 2014, taking the line west through Kungsholmen to Hornsberg. To operate the route three modern low-floor trams are being hired from Frankfurt and three from Norrköping.