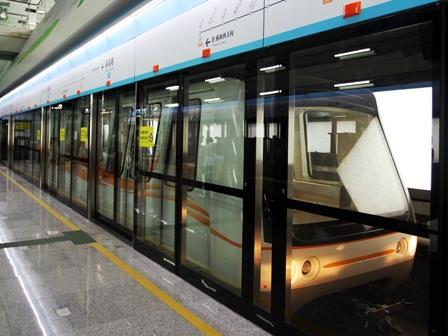 CHINA: Guangzhou Metro launched trial operation of its automated peoplemover on November 8. The line will serve key venues for the Asian Games taking place in the city from November 12 – 27.

The 4 km double-track underground route connects the Zhujiang Xincheng central business district to the Tianhe commercial area, with nine stations serving local business and leisure facilities. The terminals at Linhexi and Chigang Pagoda provide an interchange to metro Line 3. Trains are initially running at 7 min intervals between 08.00 and 20.00; a single ticket costs 2 yuan.

The Innovia APM 100 system was supplied by Bombardier Transportation in partnership with Guangzhou Metro Corp, which supplied the power, communications and platform screen door equipment. GMC also designed and constructed the tunnels and stations to Bombardier's specifications.

Bombardier's plant in Pittsburgh, USA, supplied the 14 rubber-tyred Innovia APM 100 vehicles and Cityflo 650 automatic train control. According to Bombardier, the propulsion system allows the vehicles to operate at speeds of up to 80 km/h.

Jianwei Zhang, President & Chief Country Representative, Bombardier China, said: 'we are confident that the new urban Innovia APM system for the Zhujiang Xincheng district will provide exceptional levels of performance and fast connections for Guangzhou's residents and tourists.' This is the first APM to be deployed in an urban environment in China.

Bombardier plans to build an APM technology centre at Zhuhai in Guangdong Province to serve the Asian market. A Memorandum of Understanding for development of the site was signed with the Zhuhai People's Government on October 15.

On November 3 Guangzhou Metro inaugurated the 21 km 14-station Guangzhou – Foshan line between Xilang and Kuiqilu, and a three-station western extension of Line 8 from Changgang to Fenghuang Xincun.