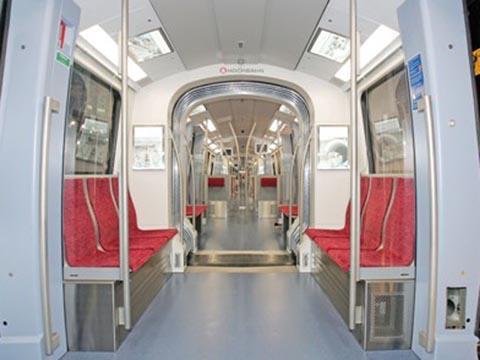 GERMANY: Hamburger Hochbahn unveiled its first DT5 metro train in Salzgitter on March 4. It will now undergo 12 months of testing and commissioning before making its first appearance in Hamburg in March 2011.

Hamburg's public transport operator ordered 67 trains costing €240m from a consortium of Alstom and Bombardier in December 2006. The vehicles are intended to replace the ageing DT3 fleet by 2015, and will also provide increased capacity to meet growing demand. They will run on Line U3 and the new Line U4 to HafenCity, which is due to open in spring 2012.

Each three-car articulated trainset is 39·6 m long and 2 600 mm wide, weighs 54·6 tonnes and is powered by six motors rated at 135 kW. Maximum speed is 80 km/h. The units will be run in pairs on Line U3, where the older platforms in the city centre are only 90 m long, and in sets of three on other lines with 125 m platforms.

With a lightweight stainless-steel car body, four air-sprung bogies and regenerative braking, the vehicle is designed to be energy-efficient and environmentally-friendly; 95% of the material can be recycled. Maximum noise level is 77 dB (A) at 60 km/h.

The air-conditioned walk-through interiors have 96 seats plus room for 128 standing passengers and two wheelchair spaces, and are fitted with modern safety and security equipment including CCTV monitoring, passenger information and a sprinkler system.