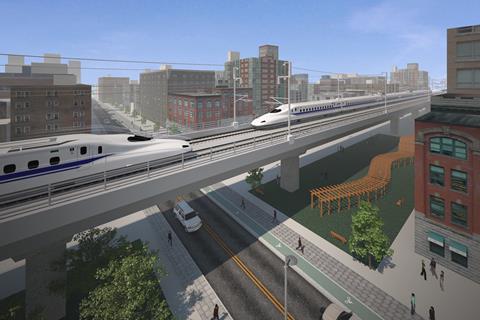 USA: Amtrak is working with Dallas to Houston high speed rail project promoter Texas Central Partners to further develop plans to build a 330 km/h line using Japanese technology.
On August 9 Amtrak said the organisations have co-operated on various initiatives since 2016, and they are currently evaluating a partnership to further study and potentially advance the project.
They have applied for federal support through the Consolidated Rail Infrastructure Safety & Improvements grant programme, the Corridor Identification & Development programme and the Federal-State Partnership for Intercity Passenger Rail grant programme.
Amtrak said the 390 km route would offer a travel time of less than 90 min, complementing other proposals for new or improved long-distance services.
'If we are going to add more high speed rail to this country, the Dallas to Houston Corridor is a compelling proposition and offers great potential', said Andy Byford, the former New York City Transit Authority President and Commissioner of Transport for London who joined Amtrak in April as Senior Vice-President of High-Speed Rail Development Programmes.
'We believe many of the country's biggest and fastest-growing metropolitan areas, like Houston and Dallas, deserve more high quality high speed, inter-city rail service and we are proud to bring our experience to evaluate this potential project and explore opportunities with Texas Central so the state can meet its full transportation needs.'
Texas Central CEO Michael Bui said 'this high speed train, using advanced, proven Shinkansen technology, has the opportunity to revolutionise rail travel in the southern USA, and we believe Amtrak could be the perfect partner to help us achieve that.'
In June 2022 Carlos Aguilar stepped down as CEO & President of Texas Central, saying he 'could not align our current stakeholders on a common vision for a path forward'.
The company told Railway Gazette International at the time that it was continuing to seek further investment and was moving forward with development. However, it has not issued an update since July 8 2022, following a Texas Supreme Court ruling that it could use eminent domain powers for compulsory land acquisition.