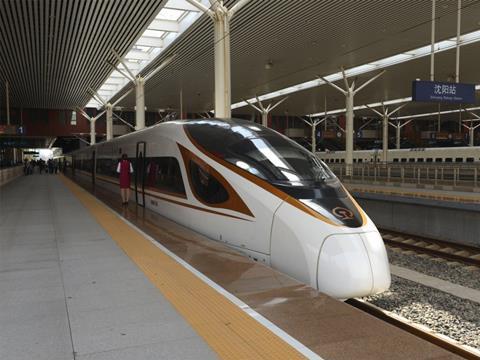 CHINA: National operator China Railway Corp has launched passenger services on four more new lines, following on from the five routes that opened on December 25-26 and taking the total length of new line inaugurated this month to more than 2 500 route-km.
December 29 saw the start of operation on the 506 km Chengde – Shenyang section of the Beijing – Shenyang/Harbin Passenger-Dedicated Line. This route has been designed for 350 km/h, but trains are initially running at 300 km/h, cutting the fastest journey times between Shenyang and Chengde to just 2 h 30 min compared with more than 11 h via the conventional line.
High speed stations have been provided at Chengde Nan, Chengdexian Bei Pingquan Bei, Niuheliang, Kazuo, Nailingao, Chaoyang, Beipiao, Wulanmutu, Fuxin, Heishan Bei, Xinmin Bei, Shenyang Xi and Shenyang.
The same day saw the start of services on a 248 km line in the southeastern province of Fujian. Designed for 200 km/h operation, the northeast-southwest line linking Nanping and Longyan provides a more direct route for long-distance services between the Yangtze river delta and Xiamen compared to the more established coastal route. The inland route has reduced the journey time between Nanping Bei and Longyan from 4 h to 90 min, while releasing capacity on the coastal route. Seven regional trains initially operate in each direction per day, serving intermediate stations at Yanping Xi, Sanming Bei, Sanming, Yong'an Nan, Shuangyang, Zhangping Xi and Yanshi Nan.
The 140 km Chengdu – Ya'an line opened on December 28 is intended to form the easternmost section of the planned 1 838 km Chengdu – Lhasa route connecting the capitals of Sichuan and Tibet. The first phase includes stations at Chengdu Xi, Wenjiang, Yangma, Chongzhou, Dayi, Qionglai, Xilai, Pujiang, Zhaoyanghu, Mingshan and Ya'an. Initially operated by CRH6A regional trainsets, the line sees four trains each way per day, running at up to 200 km/h between Chengdu and Chaoyang, and 160 km/h between Chaoyang and Ya'an. Fastest journey time is 1 h 24 min with four intermediate stops.
A 47 km, 200 km/h inter-city railway was opened on December 26, connecting Tongren in Guizhou province with Yuping on the Shanghai – Kunming Passenger-Dedicated Line. Serving stations at Tongren Nan, Wanshan Zhusha Guzhen and Dazongping, the branch is served by through trains from Guiyang Bei via Kaili Nan, with the CRH380B trainsets offering a journey time of 1 h 54 min.