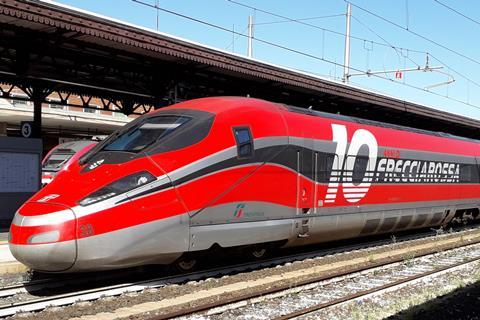 ITALY: Evidence that high speed rail competes effectively against air was presented to Terrapinn's World Rail Festival in Amsterdam by Serafino Lo Piano, Head of Sales, Long-Distance Rail, at Trenitalia.
Since the launch of the Frecciarossa brand 10 years ago, he said, rail's share of the market on the Roma – Milano corridor had grown from 36% to 67%, with Trenitalia's Frecciarossa services competing head-on with 'our friend' open access operator Italo-NTV.
In 2007-08 the airlines enjoyed 52% of the market, but their share had shrunk to just 21% by 2017-18; over the same period car travel in the corridor had initially increased from 12% to 17% but had then fallen back to 12%.
Trenitalia runs 440 long-distance and 6 200 local or regional trains a day; it has 27 000 employees.