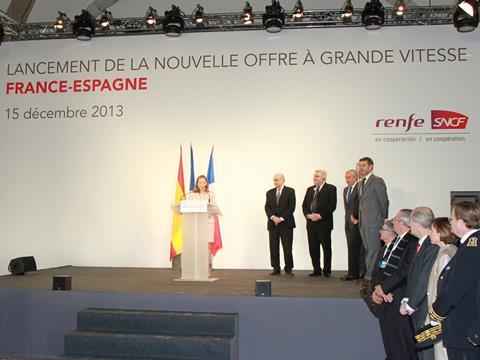 EUROPE: On December 15 French Transport Minister Frédéric Cuvillier joined Spanish Development Minister Ana Pastor to launch direct high speed services between the two countries.
Through their Elipsos joint venture, RENFE and SNCF are now operating five trains a day each way, including two SNCF services from Paris to Barcelona, and RENFE services from Madrid to Marseille and from Barcelona to Toulouse and Lyon.
'These new services are the result of close co-operation between the authorities, operators and infrastructure managers on both sides of the Pyrenees, who have been able to work to together to meet the technical challenge of railway interoperability between France and Spain and offer Europeans a single, high-quality service', said Cuvillier.
'Today is an historic day for Spain and France', said Pastor. Recognising that rolling stock acceptance had been 'an arduous and costly task', she pointed out that 'for the first time Spanish RENFE trains are running on the French network, and for the first time French SNCF trains are doing the same thing on the Spanish network. This is how you bring nations together'.
The new services are expected to carry over 1 million passengers during 2014. RENFE and SNCF reported on December 15 that 30 000 tickets had been sold since bookings opened on November 28.