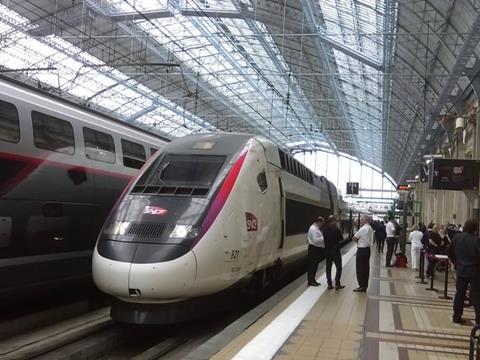 EUROPE: 'Advanced planning' is being undertaken to facilitate the possible launch of a direct London – Bordeaux high speed rail service, HS1 Ltd confirmed on April 30.
The manager of the high speed line between London and the Channel Tunnel also confirmed it was in very early stage discussions for possible services from London to destinations including Frankfurt and Genève. It has appointed Edmund Butcher as market development lead to explore new route opportunities.
Discussions for the Bordeaux route have been held with Channel Tunnel operator Eurotunnel, French infrastructure manager SNCF Réseau and Tours – Bordeaux high speed line infrastructure concessionaire LISEA.
In what HS1 Ltd said was 'a first for the UK', the infrastructure managers aim to produce a turnkey package of train paths, meaning that a train operator – which HS1 Ltd confirmed to Railway Gazette International would not have to be Eurostar – would be able to 'get the route up and running in a couple of years'. This would be a 'much faster start-up time than previous international routes', HS1 Ltd said. Eurostar's Amsterdam route was planned for more than 10 years.
HS1 Ltd CEO Dyan Crowther said the planning for a Bordeaux service was 'the first time that railway operators have collaborated in this way and saves the train operator having to do a lot of legwork', with the route being 'almost ready for a train operator to turn the key as soon as the UK and French governments agree on border controls', and 'with the right commitment, we could be looking at new services in the next couple of years'.
A meeting was held on April 25 to discuss issues including the provision of the security facilities which would be required to permit UK-bound services to use Bordeaux Saint-Jean station.
The proposed direct service bypassing Paris would offer a journey time of less than 5 h. This compares to a current London – Bordeaux journey of 5 h 25 min including a 1 h 5 min connection in Paris, and a Bordeaux – London journey time of 6 h 26 min including security and border controls at Paris Nord.
HS1 Ltd believes this would allow a future train operator to take on low cost airlines which currently fly 1·2 million passengers/ year between the cities. The launch of Eurostar's London – Amsterdam service in April had shown 'there's a real demand for international train services to provide a comfortable and better-connected service, especially for leisure journeys', said Crowther.
Responding to the announcement by HS1 Ltd, Kate Andrews, co-founder and Chief Operating Officer of SNCF-owned ticket retailer Loco2, said the convenience of a direct train was 'a huge incentive for first-time international train travellers, young families and seniors, many of whom are put off by journeys that include changing trains in Paris.'
Andrews said 'whichever operator takes on this route, it should be careful to learn from the lessons of TGV Lyria's Lille – Genève direct route that was launched in 2015 and axed just a year later. Although this service ran only to Lille, rather than continuing on to London, there were good connections tailored to Eurostar passengers travelling to/from the UK. It fell down, in part because it was scheduled to run just four times per week, instead of every day, and subsequently failed to get onto the radar of travellers. Any London - Bordeaux operator should carefully consider scheduling and seasonality to make a real success of this fantastic opportunity.'