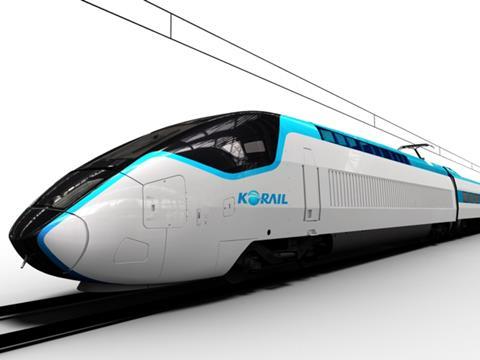 SOUTH KOREA: Hyundai Rotem has been awarded two contracts to supply 300 km/h high speed trainsets.
A 324bn won contract covers 10 KTX-Sancheon trainsets for the Suseo High Speed Railway subsidiary of Korail, which will operate the 60 km high speed line now under construction to serve the southeastern part of the Seoul conurbation.
Deliveries of the 10-car trainsets with 410 seats are scheduled for November 2016. SHSR will use them to operate two services from Suseo, which will join the existing Gyongbu high speed line at Pyeongtak. One service will run to Busan via Daejeon and Daegu, while the other will diverge at Osong onto the Honam High Speed Line to Mokpo, which is also under construction. The Suseo - Busan route will be 401 km, while Suseo - Mokpo is slightly shorter at 354 km.
Meanwhile, Korail has placed a 494bn won order for 15 trainsets to operate on the 120 km Wonju - Gangneung route when it opens in late 2017. These 10-car trainsets will be used to carry visitors from Incheon International Airport to the 2018 Pyeongchang Winter Olympics.
Korail President & CEO Dr Choi Yeon-Hye set out her vision for the national operator in the December 2013 issue of Railway Gazette International, which subscribers can access in the digital archive