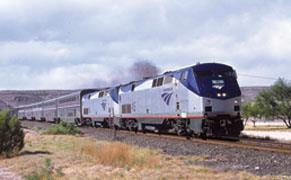 USA: On February 7 the Federal Railroad Administration gave Amtrak approval to raise speeds on its passenger services in western Michigan from 152 km/h to 177 km/h.
The agreement covers an Amtrak-owned 155 route-km section between Kalamazoo, Michigan and Porter, Indiana which has been equipped with the Incremental Train Control System. ICTS was developed by GE Transportation Systems with input from FRA, Michigan Department of Transportation and Amtrak, and was first tested on the route in the mid-1990s, with live trials of accelerated passenger services running at up to 145 km/h taking place in 2002.
ITCS combines radio data communications links and GPS location, and it is overlaid on the existing signalling system to provide automatic train protection and enforce speed limits. It also ensures that level crossing warning equipment is functioning.
Amtrak expects the approval to allow journey times on its Wolverine and Blue Water services to be reduced by around 10 min. The federal passenger company operates four daily train pairs over the route, which links Ann Arbor, Pontiac, Detroit and Port Huron with Chicago — these will become the fastest passenger trains in the USA outside the Northeast Corridor.
'This is the first expansion of regional high speed rail outside the Amtrak-owned Northeast Corridor', said Amtrak President Joseph Boardman. 'With our partners in Michigan, we will extend this 110 mile/h service from Kalamazoo to the state's central and eastern regions in the coming years.' Michigan DoT is negotiating to purchase a further 216 route-km between Kalamazoo and Dearborn from Norfolk Southern for around $140m, which would further speed journeys to and from Detroit.
Meanwhile, Amtrak and Illinois DoT are working to implement ITCS on the route between Chicago and St Louis to allow prolonged sections of 177 km/h running.