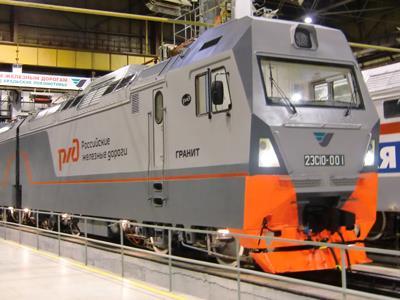 RUSSIA: The Ural Locomotives joint venture of Sinara Transport Machines and Siemens Mobility has completed production of the first of two prototype 2ES10 electric locomotives at the Verkhnyaya Pyshma plant near Yekaterinburg.

While Sinara has been using Siemens components and design input to produce 83 2ES6 DC locomotives for RZD's Sverdlovsk Railway, the twin-unit 2ES10 design for 3 kV operation is the first product to emerge under the joint venture, which was formally launched at the International Business Forum in Sochi in May 2010.

The joint venture has a contract worth 42bn roubles from RZD to supply 221 2ES10 locomotives to replace the ageing VL11 type. Fitted with integrated asynchronous traction motors, the 2ES10 design is expected to reduce whole-life operating and maintenance costs by a quarter, whilst offering twice the power output of a VL11. Series production is expected to begin in 2012.

Read a detailed account of RZD's fleet renewal strategy in the February 2011 issue of Railway Gazette International.