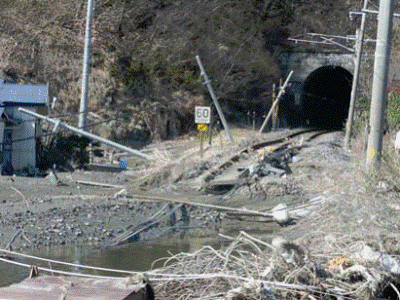 JAPAN: East Japan Railway confirmed on June 30 that it intends to put its Advanced Train Administration & Communications System into full revenue operation on the Senseki Line near Sendai with effect from September 25.
Following extensive development and test running using communications-based train control on the pilot section of the Senseki Line between Aoba-dori station in Sendai and Higashi-Shiogama, JR East had originally aimed to start regular operation with ATACS on March 27. However, many of the railway facilities and systems were heavily damaged by the earthquake and tsunami on March 11, requiring postponement of the starting date.
Passenger services were restored to the Senseki Line in two phases during April and May, following repairs to the track and trains. Confirming that 'our recovery work is being carried out smoothly according to schedule', JR East was able to announce on June 30 that 'the new starting date [for ATACS] will be on September 25'.
Damage to the ATACS equipment as a result of the tsunami had been limited to the destruction of poles carrying the leaky feeder radio communication cables near Higashi-Shiogama, inundation of the on-board control equipment on two EMU cars and water damage to equipment room facilities at one site. Radio antennae at six locations were damaged by the earthquake itself.
JR East still expects implement ATACS on the Senseki Line in two stages. This September will see the launch of the minimum functions required for train operations, including the core moving-block headway control. Additional 'peripheral functions' such as the control of level crossings and management of temporary speed restrictions will be introduced from 2012 onwards.
Read a full description of JR East's ATACS moving-block technology in the March 2011 issue of Railway Gazette International - available to subscribers in our digital archive.