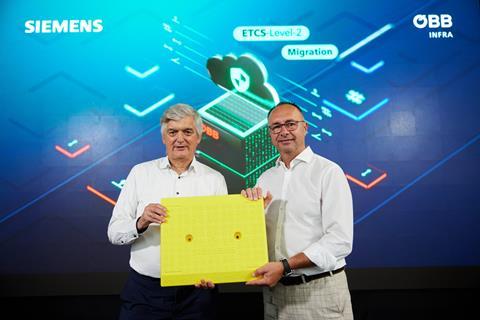 AUSTRIA: ÖBB-Infrastruktur and Siemens Mobility have commissioned ETCS Level 2 on the Linz – Wels – Vöcklabruck and Wels – Haiding routes as the first project under a 2021 framework agreement for a roll-out on main routes across the country.
This will involve installing a total of 21 radio block centres by 2038. The RBC for the initial route which went live in early August is located in Wien, with trains monitored and controlled from Linz.
ETCS is already installed on the Wien – Breclav, Wien – St Pölten and Kufstein – Brenner routes. ÖBB-Infrastruktur plans to spend €200m on further deployments by 2026, and has earmarked a total of around €900m under a programme to double the capacity of the network by 2040. The infrastructure manager is planning to deploy ETCS in three phases, with key milestones reached in 2026, 2030 and 2038, by which point all of its core routes will have been equipped.
Siemens Mobility will use its Distributed Smart Safe System platform, which has been in use since November 2020 in a pilot project at Achau. Described by the supplier as 'the world's first platform to securely make signalling applications functional and operational on standardised hardware', DS3 is designed to be used on different commercially available off-the-shelf hardware, helping to reduce life-cycle costs.
The control system interfaces with a range of railway applications to different safety integrity levels, including digital interlockings and RBCs for ETCS, as well as train protection and warning systems.