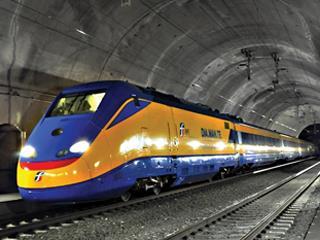 ITALY: A 17·8 km link connecting the Bologna - Firenze and Bologna - Milano high speed lines was brought into service in June. It includes a tunnel under Bologna which allows high speed services which do not stop in the city to run through at speed.
The link has been built to separate high speed trains from local services, with the aim of cutting journey times and improving service reliability.
It will also free capacity on the surface lines to enable the development of a network of commuter services operating at 15 or 30 min headways within a 30 km radius of the city and serving 13 new stations.
The southern section of the link includes 10 km of tunnel, emerging at Prati di Caprara onto the 7·8 km western section which has 5·9 km of bridges and viaducts, including a crossing of the River Reno. Alstom supplied Atlas 200 ETCS signalling for the route.
A 650 m long station cavern has been built below Bologna Centrale station. This has three levels. The lowest at 23 m below the surface contains two tracks for non-stop services, and two tracks with platforms for high speed trains which call at Bologna. The platforms will be brought into use in December, but until then stopping trains will use surface platforms. The intermediate level at -15 m will contain retail and other passenger facilities which are expected to open in 2013, while the shallowest of the three subterranean levels at -7 m will have kiss and ride facilities and access to car parks.
Testing was carried out using RFI's Dia.Man.Te. (Diagnostica e Manutenzione Tecnologica) trainset, which is equiped to measure up to 200 parameters at speeds up top 300 km/h.