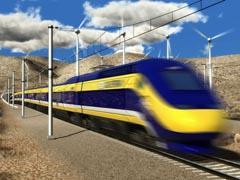 USA: The board of the California High Speed Rail Authority has selected a consortium of Tutor Perini Corp, Zachry Construction Corp and Parsons Corp to undertake civil works on the first 47 km section of the planned San Francisco – Los Angeles high speed line.
The $985m offer by the Tutor Perini joint venture had been identified in April 2013 as the best value of the five final offers received by CHSRA, which had estimated the value of the work package at $1·2bn.
The package covers below-rail earthworks for the 47 km from Madera to Fresno in the Central Valley, which is the first segment of a 480 km Initial Operating Section that would see high speed services running between Merced and the San Fernando Valley from 2022.
The contract award paves the way for a groundbreaking ceremony to take place in the next few months, subject to final ratification by the federal Surface Transportation Board.