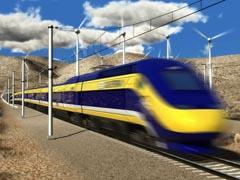 USA: With a submission worth $985m, a joint venture of Tutor Perini Corp, Zachry Construction Corp and Parsons Corp has been selected by the California High Speed Rail Authority as the best-ranking of five shortlisted bids for a design-build contract for the Madera – Fresno starter section of the planned Los Angeles – San Francisco high speed line. A final contract is to be presented to the CHSRA board for approval 'in the coming weeks'.
In scoring the five bids, CHSRA allocated 70% weighting to cost, and the remaining 30% to 'technical merit'. Although the Tutor-Zachry-Parsons bid scored lowest of the five on the technical assessment with 20·55 points of a possible 30, it managed a score of 70 on the financial assessment, giving a total of 90·55.
A joint venture of Dragados, Samsung and Pulice ranked second overall with a total score of 89·68 against an offer of $1·085bn. Other offers were received from California Backbone Builders ($1·366bn), California High-Speed Rail Partners ($1·263bn), and California High-Speed Ventures ($1·537bn).
The Madera – Fresno construction contract is the first of five to be let covering the first phase of the line in the Central Valley. Estimated to cost up to $31bn, this 480 km Initial Operating Section would connect Merced with the San Fernando Valley; trains are scheduled to begin running in 2022.