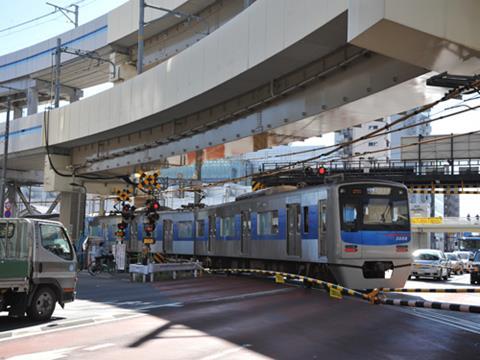 JAPAN: A complex project to grade-separate an important road crossing at Kamata in the southern suburbs of Tokyo was completed in the early hours of October 22.
The crossing carried the Haneda Airport branch of the 1 435 mm gauge Keihin Kyuko Railway across the busy main road between Tokyo and Yokohama, used by many lorries carrying traffic to and from the harbours in both cities. The road is also host to a long-distance relay race on January 2-3 each year, when teams of 10 students run 100 km between Tokyo and Hakone, requiring the suspension of rail traffic.
In order to reduce traffic conflicts and avoid the need for all cars and lorries to stop before crossing the line, which is obligatory at Japanese level crossings, Tokyo City Government and private rail operator Keikyu Corp agreed to fund grade-separation of the intersection at a total cost of ¥189·2bn.
Following construction of an elevated viaduct to carry the branch, the railway was diverted onto the new alignment in a single overnight possession. After the last train had passed at midnight on October 21 the overhead line was removed and the track disconnected.
Slewing of the tracks began at 00.40, and was completed at 03.00, around 40 min ahead of schedule. Once the overhead had been connected up, the first trial train was able to operate over the new alignment at 05.20.
After two more test runs the elevated line was opened for revenue service, the level crossing lights removed and white stop lines erased.