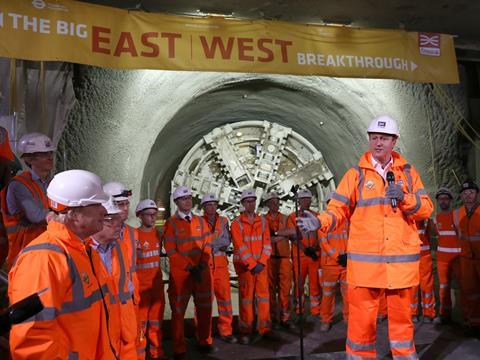 UK: Prime Minister David Cameron joined Transport Secretary Patrick McLoughlin and Mayor of London Boris Johnson at Farringdon on June 4 to mark the completion of tunnelling for the Crossrail project. Since the summer of 2012, eight TBMs have bored 42 km of running tunnels under London with a diameter of 6∙2 m.
'Crossrail is being delivered on time and within budget and is over 65% complete', said Crossrail Ltd Chief Executive Andrew Wolstenholme. 'The challenge now shifts to the complicated and substantial task of fitting out the stations and tunnels'.
Construction of the 10 new stations on the central core and the branch to Abbey Wood, as well as surface works on the Great Western and Great Eastern main lines, 'is also advancing', said Crossrail Ltd. At present, more than 10 000 people are at work on the project, which with its supply chain is estimated to have supported the equivalent of 55 000 full-time jobs across the UK.
'Crossrail has already created tens of thousands of jobs and helped boost the skills of many thousands of people not just in the capital, but all around our great nation', said Johnson. 'It is a wonderful example of our nation's talent for engineering, a talent that must not be allowed to founder and that I hope will eventually be put to use on the construction of Crossrail 2'.