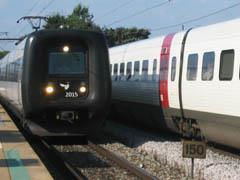 DENMARK: Banedanmark announced on December 16 that Alstom and a Thales/Balfour Beatty Rail joint venture had been selected for final negotiations for two contracts to supply ETCS Level 2 equipment under the €3·2bn programme to resignal the entire national network.
The infrastructure manager expects to sign final contracts in February. Thales-BBR would be responsible lines on Jutland, while Alstom will supply equipment east of the Lillebælt. Both contractors will undertake to deliver equipment for the other region if the second supplier is unable to fulfil the requirements.
Announcing the preferred bidders, Banedanmark said there had been fierce competition between prequalified bidders, and the estimated prices were within budget. 'We received a total of 12 very strong bids for the job, six each in the west and east', said Managing Director Jesper Hansen. 'We have chosen to enter into final negotiations with the two vendors who submitted the most economically advantageous overall bids'.
Bidders were required to have proven equipment and experience, and award criteria were weighted to balance cost with the technology offered and the contractor's ability to implement the project on time.
The first roll out will be on the Frederikshavn - Langa and Roskilde - Køge - Næstved routes in 2017, with other lines to be completed by 2021.
The København suburban network is to be equipped with Siemens CBTC under a separate €252m contract which was finalised in August.