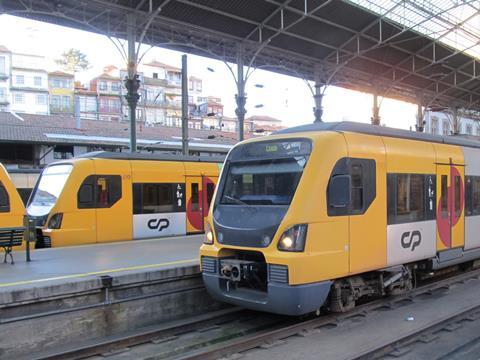 PORTUGAL: Refer announced on May 18 that it had awarded Isolux Corsán a €6·17m contract to electrify the 14∙4 km Caíde – Marco de Canaveses section of the Porto – Régua route. This will enable suburban services to be extended to Marco de Canaveses.
Due for completion within 450 days, work will include providing clearance for OHLE within tunnels at Caíde, Gaviara and Campainha, as well as raising platform heights at Oliveira, Vila Meã, Recesinhos, Livração and Marco de Canaveses. Within a budget of €1∙9m, a separate contract is to be let for track renewals between Caíde and Vila Meã, expected to start in the fourth quarter of 2015 for completion within 90 days and including the replacement of timber sleepers with concrete twin-block units.
Meanwhile, a total of €84m is being spent to upgrade the 92 km Nine – Valença route by 2019, in order to cut journey times for services including those between Porto and Vigo in Spain. As well as electrification, work will include lengthening station passing loops to accommodate 750 m long trains, resignalling and level crossing elimination.
Spanish Development Minister Ana Pastor said that she hoped to sign a funding agreement for the upgrade of the Porto – Vigo route with her Portuguese counterpart during a summit between the governments in June, including a contribution from the European Union. According to Pastor, passenger traffic has grown by 45% since an express service with through ticketing was launched between the two cities on July 2 2013.