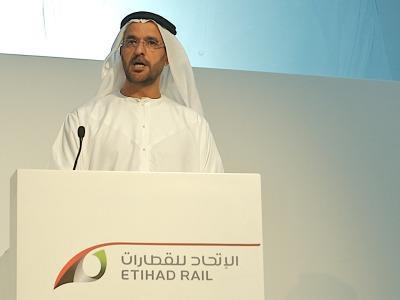 UAE: The first freight trains on the emirates' nascent rail network will start running in 2013, according to the Chairman of Etihad Rail Nasser Al Sowaidi.
Speaking at an event in Abu Dhabi on March 23 to mark the rebranding of the company previously known as Union Railway, Al Sowaidi confirmed that the initial line between Ruwais and Habshan would be ready for operation in 'early 2013', with the Habshan – Shah section to complete the 264 km Phase I ready 'by the end of 2014'. Civil works contracts have already been awarded for the first phase, and tendering is now underway for electrical and mechanical systems including track and rolling stock.
Etihad Rail has adopted a new corporate image incorporating the colours of the national flag, 'to symbolise the national significance of the railway'. Al Sowaidi said the development of a network of up to 1 200 km was 'one of the most significant national projects in the development of the UAE', which 'signifies a new chapter of transport', forming a key part of the country's infrastructure and promoting integration between different modes.
Vice-Chairman Matter Al Tayer revealed that design work on the second and third phases would be finalised by the end of this year, allowing construction to get underway during the second half of 2012.
Phase 2 covers the remaining lines in the Abu Dhabi emirate plus a link to Dubai, connecting the region's two largest cities as well as serving Mussaffah and the Khalifa and Jebel Ali ports. Phase 3 would add further routes in the northern emirates. There will be links to neighbouring countries as part of the emerging Gulf rail network, including Saudi Arabia at Ghweifat and Oman at Al Aïn.
Al Sowaidi said Etihad Rail had made 'dramatic progress' since its establishment in 2009, completing technical, commercial and financial studies to confirm the social benefits of the rail network and predict traffic flows for the next 20 to 30 years. The railway is expected to carry around 50 million tonnes of freight and 16 million passengers.
Etihad Rail is working with leading investment banks, and says its financing strategy is 'close to completion', and sophisticated studies have been undertaken to understand and manage rail operations in desert conditions. This had given the project 'unstoppable momentum', he believed.