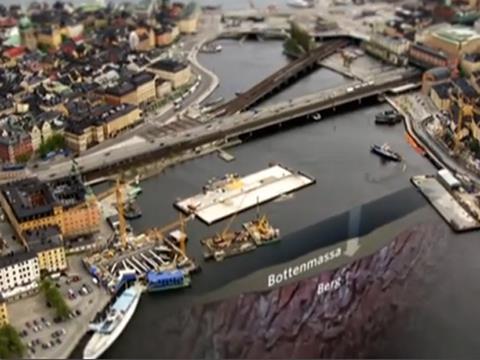 SWEDEN: The third and final section of the Söderström immersed tunnel was lowered into place in central Stockholm on August 6.
The tunnel connecting the islands Riddarholmen and Södermalm forms part of the SKr16·8bn Citybanan, a 6 km deep-level line being built to carry suburban rail services beneath central Stockholm. On completion in 2017 the Citybanan will increase total capacity through the city from 28 to 52 trains/h, relieving the double-track 'wasp's waist' route which is shared with long-distance and freight trains and forms a significant bottleneck on the rail network.
The tunnel is being designed and built by the Söderströmstunneln joint venture of Pihl and Züblin. Strukton Immersion Projects supplied equipment and specialist personnel for the immersion operation.
The three immersed sections are up to 100 m x 20 m x 10 m. The steel frames were constructed in Tallinn and the concrete casing applied in Sweden, taking the total mass of a section to 20 000 tonnes. The soft subsoil is unsuitable for bedding directly on the seabed, and so the tunnel is being founded on four piled and one raft foundation, forming an underwater bridge with a flexible joint at one end and a fixed restraint formed by massive rock anchoring at the other end.
The immersed sections will be linked to the existing rail network by bored tunnels which are expected to be ready for fitting out by 2014. The completed tunnel will have a double-track main bore alongside a service bore.