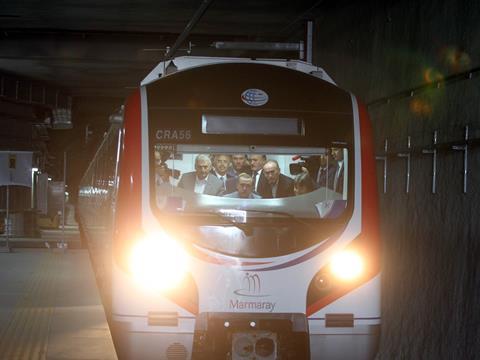 TURKEY: A ceremonial first test train ran through the Marmaray tunnel between Kazliçesme on the European side of Istanbul and Ayrılıkçesme on the Asian side on August 4, with Prime Minister Recep Tayyip Erdogan at the controls. 'This project is not the project of the century, but it is the project of centuries', said Erdogan.
The Prime Minister was joined on the train by Minister of Transportation, Maritime Affairs & Communications Binali Yıldırm and Mayor of Istanbul Kadir Topbas.
Inauguration ceremonies for both the Marmaray tunnel and the high speed line between Eskisehir and Gebze to the east of Istanbul are scheduled for October 29, the 90th anniversary of the founding of the Turkish republic.
While the 1·4 km immersed tube tunnel is scheduled to open this year, work to upgrade existing lines to provide a metro-styles suburban service over a 77 km cross-city route is not expected to be completed until June 2015.
The Marmaray project was described in detail in the May 2013 issue of Railway Gazette International, which subscribers can access in the digital archive.