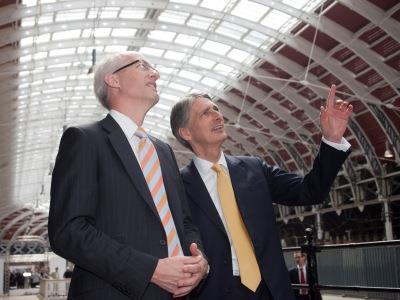 UK: Visiting London's Paddington station on July 14 to mark the completion of work to refurbish the station roof, Secretary of State for Transport Philip Hammond officially launched a 10-year programme to upgrade the Great Western Main Line.
Speaking at the launch, Network Rail Chief Executive David Higgins said the £5bn investment in electrification and resignalling and the procurement of new trains would make the route 'the most advanced inter-city railway in Britain', providing capacity to cater for a predicted 51% increase in ridership over the next 30 years.
'The case for developing the Great Western Main Line into a railway for the 21st century is above all an economic one', said Hammond. 'The transformational 10-year programme that Network Rail is leading will do more than help to meet projected demand for increased passenger and freight journeys; it will deliver a long-term boost to the economies of Wales and the South West.'
The programme comprises seven core work packages, of which the largest covers 25 kV 50 Hz electrification to Oxford, Newbury, Bristol and Cardiff in nine phases. Network Rail is currently tendering for machinery and plant to install the overhead line equipment, seeking innovative techniques to minimise disruption and maximise the work that can be undertaken within 8 h overnight windows.
Apart from the remodelling of the key junction at Reading which is already underway, work will begin with renewal of the signalling between London and Bristol by end of 2011, making the infrastructure ready for electrification. Introduction of ERTMS is due to start 'by 2016', with ETCS Level 2 being overlaid on the new lineside signalling.
Electrification and ETCS will pave the way for the operation of around 70 bi-mode Super Express Trains which the government is to procure from the Hitachi-led Agility Trains consortium under the Intercity Express Programme confirmed earlier this year.