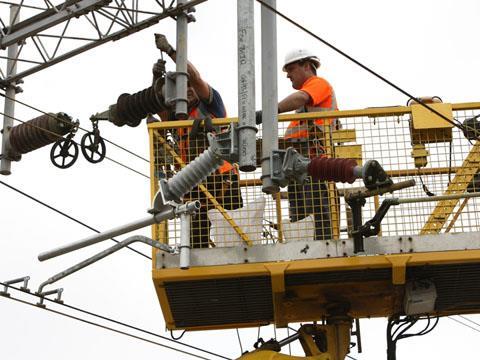 UK: Speaking in the House of Commons on March 1, Secretary of State for Transport Philip Hammond announced the go-ahead for the second stage of the Great Western Main Line electrification, which will extend the 25 kV 50 Hz electrification from Didcot to Bristol and through the Severn Tunnel to Cardiff at a cost of £704m.
Electrification of the GWML from London to Bristol and Swansea had been approved by the former Labour administration in 2009, but following the general election last year the plans were put on hold pending the new government's Comprehensive Spending Review. Hammond confirmed on November 25 that the first phase covering the outer-suburban routes to Reading, Didcot, Newbury and Oxford would go ahead.
A decision on the main line electrification was deferred because of its interaction with the Intercity Express Programme to buy a new fleet of inter-city trainsets, which was still under negotiation. Hammond has now confirmed that the wires will be extended to Bristol and Cardiff, but says there is no business case for electrifying the Cardiff – Swansea section; through trains from London will be worked by bi-mode IEPs.
Hammond also said there appeared to be 'a good case' for electrification of the Cardiff Valleys suburban network radiating from the Welsh capital to Pontypridd, Caerphilly, Treherbert, Aberdare, Merthyr Tydfil, Coryton, Rhymney, Penarth and Barry Island, which would be able to share the new traction power supply being installed for the main line scheme.
Traffic has been growing strongly on the local services, and the introduction of new EMUs will help to cope with growth and allow existing DMUs to be redeployed to relieve overcrowding elsewhere. The Department of Transport will work with the Welsh Assembly Government to develop a full business case for electrification of the Cardiff Valley lines during Network Rail's Control Period 5 beginning in April 2014. In parallel, the Welsh Assembly Government will consider the case for specifying suitable electric trains when the Wales and Borders franchise is re-let in 2018.
Hammond confirmed that he was restarting negotiations to buy a fleet of electric and bimode IEP trainsets, for which the Agility Trains consortium had been selected as preferred bidder in 2009. Around 500 vehicles will be needed for the GWML fleet, within a train service provision contract valued at up to £4·5bn. The first trains are expected to be in service around 2016.

Responding to the announcement, consortium leader Hitachi announced that it had selected Newton Aycliffe in County Durham as the preferred site for its planned European rolling stock manufacturing and assembly centre. The company suggested that the investment in a 'world class manufacturing facility' would generate at least 500 new jobs, as well as 'major opportunities for the UK and European supply chain'. Agility Trains said it was 'looking forward to finalising the commercial details and engaging with its lending banks to reach financial close by the end of the year.'