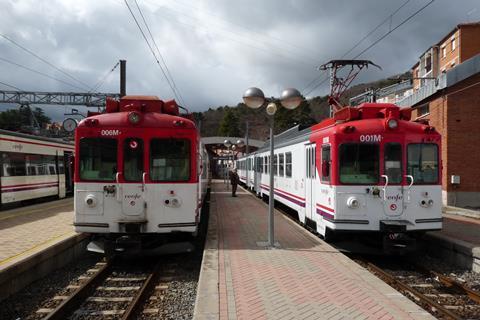 SPAIN: Infrastructure manager ADIF has called tenders for a comprehensive upgrade of the 1 000 mm gauge Cercedilla – Los Cotos mountain railway, which is operated as Madrid suburban Line C9.
Electrified at 1·5 kV DC, the steeply-graded 18·2 km route climbs from 1 158 m at Cercedilla to 1 830 m at Los Cotos.
Budgeted at €16·9m, the upgrading project is scheduled to be undertaken during a seven-month blockade of the route in 2024.
The main works will see the earthworks stabilised and the drainage improved, along with track renewals to facilitate an increase in line speed. The lining of the Navacerrada tunnel is also to be treated to reduce water ingress. The three stations on the route are to be modernised, while the former halts at Camorritos and Siete Picos will be reopened.
Operator RENFE has already awarded CAF a contract to supply six two-car EMUs for use on the line. These will replace the four Class 442 trainsets built by MTM in 1976 and 1982.
The new units will be to a bespoke design, offering step-free access, a wheelchair-accessible toilet and space for bicycles. They will be equipped with batteries for 'last mile' movement if the overhead power supply is interrupted by heavy snowfall or fallen tree branches.