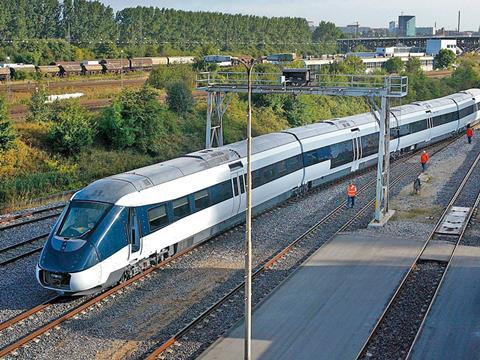 DENMARK: National passenger operator DSB announced on July 2 that it had received authority to put its troubled fleet of IC4 DMUs back into passenger service. The trains had been withdrawn from traffic in November 2011 after problems were identified with the braking system.
DSB has been allowed to run the IC4s on test without passengers since February, in order to investigate the problems and develop rectification measures in conjunction with manufacturer Faiveley, DB's Minden research centre and local technical universities. Over the past four months the trains have run around 200 000 km on test. During this phase, DSB made it mandatory to use the IC4's magnetic rail brakes, which increase the braking effort by around 20%, and this will remain the case.
DSB applied to the national transport authority Trafikstyreksen for permission to reinstate the IC4s to passenger service last month, following the publication on June 20 of an independent report by the Technical University of Denmark which confirmed that the IC4 brakes were now working correctly and conformed to all European and local standards This request has now been approved by Trafikstyreksen, enabling DSB to put its 37 operational trainsets back into traffic once they have been modified to the new configuration.
DSB Vedligehold CEO Frank Olesen said 'I am very pleased that we can once again run with passengers in the IC4s. Safety is always DSB's first priority, and after the very thorough studies of the braking system over the past eight months, I feel confident about putting them back into passenger service.'
DSB is planning to reinstate the IC4s gradually, starting with regional services between Aarhus and Esbjerg in place of the older MR DMUs. From August they will also be introduced between Aarhus and Aalborg, and finally the trains will be restored to the InterCityLyn services between Aarhus and København.