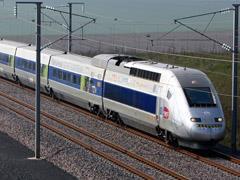 FRANCE: Four possible routes for a high speed line linking Paris with Orléans, Clermont-Ferrand and Lyon were unveiled by RFF on May 26, following four years of discussion. LGV POCL is part of the 2 500 km of new line included in the government's Grenelle d'Environnement strategy as a long-term project for construction after 2025.
The infrastructure manager has appointed the National Commission for Public Debate to organise public consultation on the four options, with 25 meeting scheduled across the five regions affected between October and the end of January 2012.
The Western corridor would run from Paris to Orléans, Vierzon, Bourges and Nevers before turning east towards Lyon via either Mâcon or Roanne. The West-South route follows the same alignment to Vierzon, but then runs west of Bourges and south to pass between Montluçon and Moulins en route to Lyon via Roanne. The Central corridor would run direct from Paris to Nevers, with branches to serve Orléans and Bourges. The Eastern route is similar, but passes to the east of Nevers rather than the southwest. In all cases trains to Clermont-Ferrand would leave the high speed line and join the existing route at some point between Nevers and Vichy.
When drawing up priorities for the projects to be included in the Grenelle package, former transport secretary Dominique Bussereau set four key objectives for LGV POCL:
reducing journey times between Paris and Clermont-Ferrand to less than 2 h;
connecting Orléans into the high speed network;
improving services to Bourges and other towns in central France;
providing a second route between Paris and Lyon to relieve the original LGV Paris-Sud-Est, which is now close to capacity.
In addition, RFF wants the new line to improve connections between Auvergne and Rhône-Alpes, to create a cross-country corridor between Lyon and the Atlantic coast, to provide rail connections to regional airports and to stimulate the development of a wider public transport network.