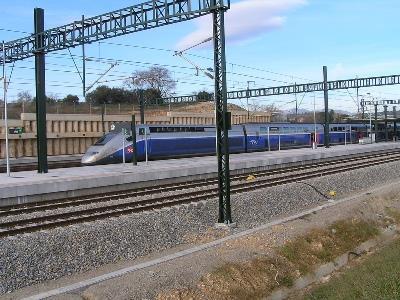 EUROPE: Ceremonies were held at the Franco-Spanish border on January 27 to mark the official inauguration of the 44·5 km cross-border rail link between Perpignan and Figueres. The 1 435 mm gauge line has been open to passenger and freight services since December 19.
Participating in the official opening were Spanish Minister of Development José Blanco, French Secretary of State for Transport Thierry Mariani, and Carlo Secchi, the European Commission's co-ordinator for high speed rail links in south-west Europe.
Pointing out that 'this link between the two main high speed rail European networks overcomes a historic barrier', Secchi said 'the new cross-border section represents a major achievement for the internal market and for the mobility of citizens. I am proud the European Union played such an essential role in making this possible.' The EU provided co-financing of €69·75m from its Trans-European Transport Network budget, representing 25% of the cost of the project.
Including the 8 km Pertus tunnel, the cross-border route built by the TP Ferro concession group is equipped with ETCS Level 2 and designed for operation at up to 350 km/h. The line was completed at the end of 2009, but the connections to the Spanish network were not ready until December 2010.
Opening of the link has reduced journey times between Barcelona and France by about an hour, and completion of the high speed line between Barcelona and Figueres in 2012, is expected to cut the Barcelona – Perpignan journey time to just 50 min, compared with more than 3 h 30 min using the original broad-gauge route via Port Bou.
According to the Spanish Ministry of Development, 14 503 passengers used the new link during its first month of operation, including 2 628 travelling between Barcelona and Paris.