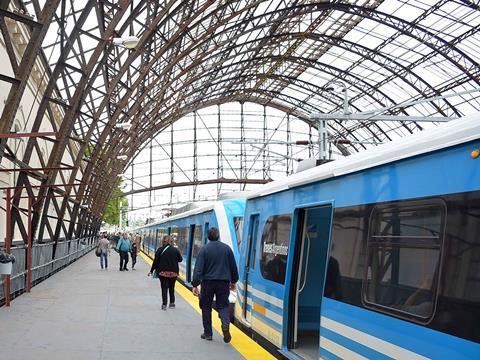 ARGENTINA: Electric services began operating between City Bell and La Plata on the Roca commuter network in Buenos Aires on October 18, marking completion of an electrification project undertaken as part of a US$250m upgrade of the 1 676 mm gauge commuter routes running south from the capital.
With the 52∙6 km route between Buenos Aires and La Plata now electrified throughout, the fastest journey time has been cut by 20 min to 1 h 12 min. Services operate every 30 min, with trains operating from Buenos Aires as far as Berazategui every 15 min.
As a change from electric to diesel services is now longer required to reach La Plata, it is expected that the route will be used by over 150 000 passengers a day. Completion of electrification work has also seen the intermediate stations at Tolosa and Gonnet reopen to rail services; Ringuelet and Pereyra remain closed for rebuilding work.