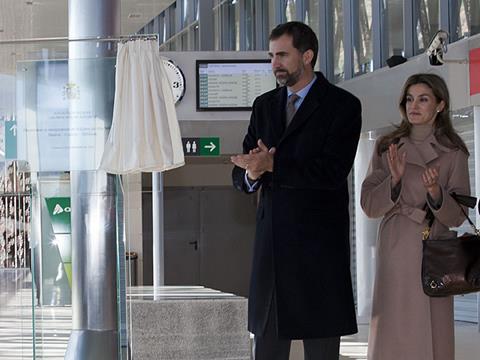 SPAIN: The Madrid to Cuenca and Albacete section of the high speed line to Valencia was formally inaugurated by the Prince of Asturias and his consort on December 15. The section from Cuenca to Valencia will follow on December 18.
The completion of a further 438 km of high speed line at a cost of €3·1bn gives Spain the largest high speed network in Europe, at 2 665 route-km and the second-longest in the world after China.
From December 19 RENFE will operate up to 15 services a day each way between Madrid and Valencia, with a fastest non-stop journey time of 1 h 35 min for the 383 km route. As well as Alvia services operated with gauge-changing Class 130 trainsets from Madrid to Castelló and Alacant (RG 10.10 p48), a new Toledo – Albacete service is to be introduced, reversing at Madrid Atocha. 50 000 discounted tickets for travel on the new line are being offered until January 9.
Tracklaying on the 69 km of high speed infrastructure between La Encina and Alacant is expected to begin during the first quarter of 2011. A tracklaying base has been built on a 6 ha site at Monforte del Cid at a cost of €13∙7m, which will also handle materials for the 65 km between Monforte and Murcia.