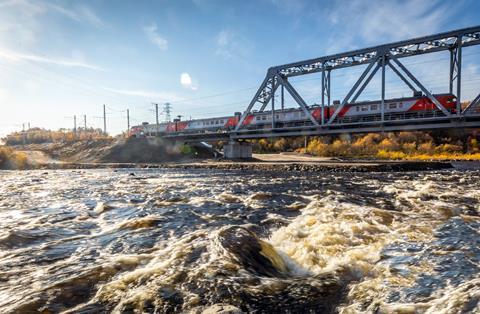 RUSSIA: Trains have started using a replacement bridge across the River Kola near Murmansk, following an opening ceremony attended by RZD Chairman & CEO Oleg Belozerov, Deputy Transport Minister Vladimir Tokarev and the Governor of Murmansk region Andrey Chibis.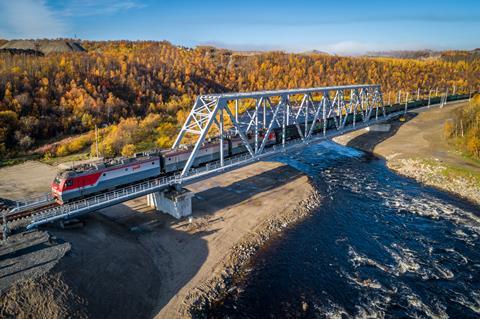 Construction of the 158·2 m bridge was completed in 105 days, after the previous structure collapsed on June 1 as a result of severe flooding.
The new structure has a 111 m central span and two side spans of 18 m, which are carried on four reinforced concrete piers. These in turn are supported on 34 bored piles on each bank, meaning that the bridge does not have any supports in the river itself.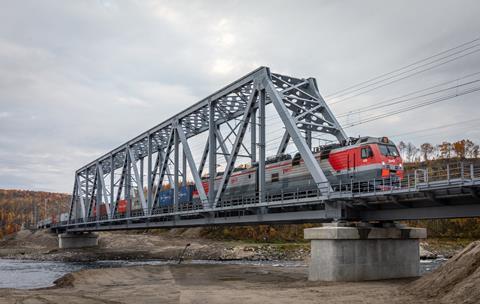 As well as reducing the risk of future flood damage, RZD says there is also a positive environmental benefit, as the unobstructed riverbed means that piers no longer interfere with fish migration.
A real-time monitoring system ensures that trains are stopped in the event of any damage or security threat, automatically setting signals on the bridge approaches to danger and triggering an alarm at the line's dispatching centre. According to RZD, this the first such system to be installed on a railway bridge in Russia.
'This railway bridge was built in just 105 days, a unique feat that shows the high level of skills of the builders', said Belozerov at the inauguration on September 28. 'It is an achievement that will definitely go down in history, and we have something to be proud of.'
While the new bridge was being built, some trains to Murmansk were terminated at Vykhodnoy; while from June 19 others used the initial section of the under construction Vykhodnoy – Labna line as far as Murmashi.