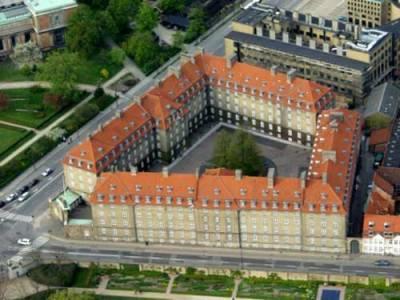 DENMARK: As national passenger operator DSB struggles to restore its finances, new Chief Executive Christian Roslev has announced plans to sell the company's iconic headquarters building in København.
The 240-year old former barracks at Sølvgade 40 has been national railway's headquarters for the past 83 years, but the idea of moving out has been floated on several occasions. The premises have been increasingly underutilised in recent years, particularly since the split of infrastructure and operations which saw Banedanmark establish its own offices. The large hallways and poorly utilised rooms leave too much wasted space, but as the building is a listed historic structure DSB cannot remodel it to meet modern requirements.
'DSB remains committed to becoming a much more modern and efficient company, so we need to have a structure that supports it', said Roslev, announcing the sale proposal at a meeting with employee representatives on October 4. DSB will now examine how a sale and relocation could be arranged to provide the best economic return before the board takes a final decision.
Roslev says the premises are 'enclosed and unwelcoming', reflecting its military heritage. 'I did not even feel welcome as a guest when I came here as director of Nordjyllands Trafikselskab', he added. 'I would like DSB to have a more open headquarters with a flexible interior. And it would be really good if this was located nearer to the railway'.
DSB is also looking to improve efficiency by streamlining its procurement processes, with a goal of saving DKr110m in 2012. The company accepts that centralisation of all purchasing functions will require 'a massive restructuring' and strong management, but it believes that much of the process 'from requisition to payment' can be automated. The new system would also provide more detailed management information about the company's expenditure. Purchasing Manager Ole Egebøl intends to review DSB's current list of around 8 000 suppliers in order to reduce the number of vendors and get better prices through placing larger orders for similar services.