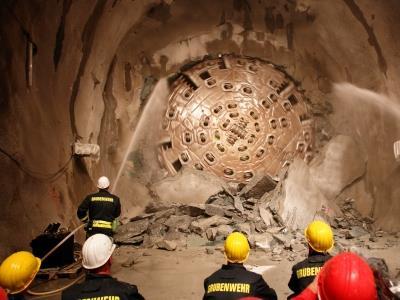 SWITZERLAND: Five months after the celebrations to mark the breakthrough of the eastern running tunnel of the 57 km Gotthard base tunnel, the western bore was finally completed on March 23.
The second breakthrough was not marked by the same kind of public ceremony as the first event on October 19, but around 350 guests including representatives from the local cantons of Uri, Ticino and Graubünden joined promoter Alptransit Gotthard AG for the celebrations. 'This is another milestone in the construction of the longest railway tunnel in the world', said Alptransit Chairman Renzo Simoni.
Construction of the base tunnel between Ersfeld and Bodio began in 2001. Over the past decade more than 152 km of tunnel has been excavated, including the two running tunnels, access adits and shafts. Over 28 million tonnes of rock has been removed from the workings, of which more than half has been excavated using tunnel boring machines.
Over the next few months, the remaining construction plant will be dismantled and the second bore cleared out ready for the installation of railway systems, including track, overhead electrification, train control and safety equipment. Installation work and tracklaying have already started at the southern end of the base tunnel. Alptransit Gotthard expects to hand over the completed tunnels to SBB ready for operation in May 2016.