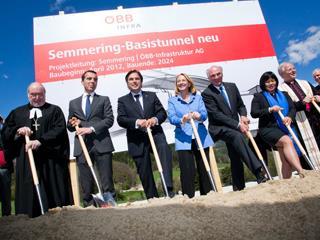 AUSTRIA: A ground-breaking ceremony was held at Gloggnitz on April 25 to officially launch preliminary construction works for the 27·3 km Semmering base tunnel. Opening is planned for 2024.
The €3·1bn base tunnel between Gloggnitz and Mürzzuschlag is a key part of the 'new Südbahn' project. It will eliminate the current bottleneck on the 41 km Semmeringbahn route where steep gradients and numerous curves require freight trains to use two or three locomotives.
The tunnel will comprise two 10 m bores between 40 and 70 m apart, linked by cross passages every 500m. Boring is planned to start in 2014, with excavation completed ready for fitting out from 2021.
The tunnel will be designed for passenger trains to run at up to 230 km/h, shortening Wien - Graz journey times by 40 min to 1 h 50 min, which is expected to attract more customers to rail.
The Semmeringbahn was built in 1848-54, and is on the World Heritage list as 'one of the greatest feats of civil engineering from this pioneering phase of railway building'.