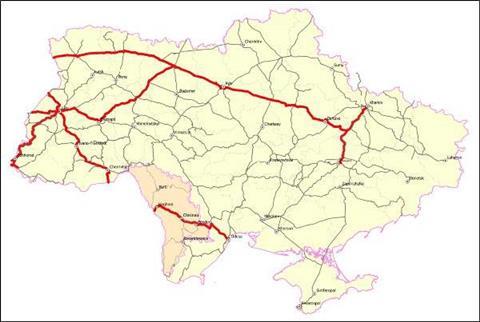 EUROPE: The construction of a 1 435 mm gauge railway 'backbone' has been proposed as part of a strategy for closer integration of the rail networks in Ukraine and Moldova with those of the European Union.
The strategy has been drawn up by the European Investment Bank's JASPERS technical advisory service in co-operation with Ukraine, Moldova, Romania and Poland as part of the EU's Solidarity Lanes action plan implemented following Russia's full-scale invasion of Ukraine.
The study looked at a number of options, ranging from modernisation of the current 1 520 mm broad gauge networks to full conversion to 1 435 mm standard gauge.
It recommends the development of a 1 435 mm gauge 'backbone' to carry international and inter-city passenger trains and intermodal freight, while retaining the 1 520 mm lines to cater for lower-speed local and regional passenger traffic as well as bulk freight.
Development of the standard gauge lines would be phased from west to east. Taking into account the likely costs, demand and capacity, the study suggests that work should start with 1 435 mm gauge connections from Kraków and Katowice in Poland to Lviv, and from Iași in Romania to Chisinău.
The study also looked at the requirements for marshalling yards, workshops and transhipment facilities, as well as operational, organisational and legal changes.
It emphasised that rail could play a key role in enabling the 'major economic transformation' envisaged in Ukraine and Moldova as a result of the Russian war. This is expected to lead to strengthened integration with the EU, stronger cross-border ties and improved social cohesion and economic development.
This is predicted to generate increased opportunities for the development of high-value container transport, effective logistics and on-demand services. However, there would be technical challenges to overcome, in particular gauge and rolling stock issues.
Commenting on the publication of the study on July 10, EIB Vice-President Teresa Czerwińska said 'extending the standard gauge of the European railway network to Ukraine and Moldova will facilitate the movement of goods and services, helping the two countries to integrate more quickly into the EU market and accelerating Ukraine's post-war recovery. Developing modern transport links is a way for us to foster the region's economic growth and provide steadfast support to Ukraine and Moldova on their paths to EU integration.'
Supporting documents
Click link to download and view these files