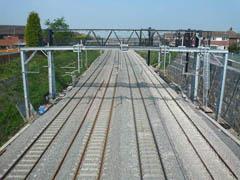 Australia: This month QR and Van Elk Contracting will begin work on a A$30m rail replacement contract in Tasmania. The state government said it is committed to ensuring rail freight remains viable, despite Pacific National's decision to sell its Tasmanian operation (RG 7.08 p422).
Belgium: CSC Tech has won a €4·9m contract to supply catenary for the Gosselies branch of the Charleroi light metro, as well as a €13·4m contract for track laying. Work was expected to start last month.
Canada: Union Switch & Signal has won a US$13·9m contract from Toronto Transit Commission to resignal 10 km of the Yonge – University – Spadina Line, including 15 stations and three interlocking zones.
Europe: On October 10 Eurotunnel approved contracts for repairs to the Channel Tunnel following the September 11 fire. Setec will supervise the work to be undertaken by Freyssinet (civils), ETF (track and electrification) and Vinci Energies. Axima will supply cooling systems. Reopening of the damaged section is planned for mid-February, at a cost of less than €60m.
Finland: Sweco has won a €10m contract for project management on the 13 km Espoo extension of the Helsinki metro (RG 7.08 p409).
Germany: At the end of September DB launched a €54m modernisation of the marshalling yard at Mannheim, to be completed by 2010.
Poland: Arcadis is to prepare feasibility studies for 120 km/h freight and 160 km/h passenger operation on the Miedzylesie – Wroclaw and Kostrzyn – Szczecin lines.
PKP PLK has awarded contracts totalling 112m zloty for the modernisation of three lines in Warszawa to a consortium of PRK7, Trakcja Polska, PRKiL Wroclaw and PRK Kraków.
Russia: Siemens is to supply RZD with automation equipment for the modernisation of yards at Luzhskaya near St Petersburg and Chernyakhovsk in Kaliningrad.
South Africa: Alstom has completed a R54m resignalling of the 61 km Delmas – Ogies line linking Johannesburg with the Witbank coalfields. As well as replacing semaphore signals with bidirectional multiple-aspect signalling, the work supports capacity upgrades to carry export coal from the Waterberg project under ?development near Lephalale.
Spain: FCC and Acciona Infraestructuras have been awarded a contract worth €134·9m to build a ?4·5 km extension of Madrid Metro Line 2 between La Elipa and Las Rosas, with four new stations.
Comsa has been awarded a €33·6m contract to build 16·5 km of high speed infrastructure between Grañena and Jaén, including 7 km of new alignment. As well as relaying part of the existing route on gauge-convertible sleepers, the contract includes electrification, signalling and telecoms.
Vías y Construcciones and Altuna y Uría have been awarded a €60m contract to build a new double-track alignment on the 1·6 km Loiola – Herrera section of EuskoTren's San Sebastián – Hendaye route, enabling the existing single-track alignment to be reserved in future for freight traffic. Work is due to take 42 months, including the construction of an underground station at Intxaurrondo.
Sweden: Last month Banverket awarded Rejlerkoncernen a SKr6·5m contract to design catenary suitable for 250 km/h running between ?Mjölby and Nässjö.
Banverket has awarded NCC Construction the SKr1·5bn contract for the Norrström tunnel and construction of a two-platform City station beneath the existing T-Centralen metro station as part of the Stockholm Citybanan project
Turkey: This month TCDD will sign a €126m contract with Ansaldo Segnalamento Ferroviario and Ansaldo Trasporti Sistemi Ferroviari for the supply of ETCS Level 1 equipment, interlockings, CTC and telecoms for the Bogazköprü – Ulukisla – Yenice and Mersin – Toprakkale routes, totalling 410 route-km.
UK: Network Rail has awarded Balfour Beatty Rail Projects a £60m contract for track doubling, 24 km of reinstatement works and electrification under the £300m Airdrie – Bathgate project to reopen an additional route between Edinburgh and Glasgow.
Westinghouse Rail Systems has won a £20m contract from Network Rail to resignal Reading station with Westlock interlockings by December 2010, in the first stage of the £425m Reading redevelopment project.
Network Rail has awarded Scott Wilson a contract worth up to £9·8m to develop options for integrating the existing railway lines east and west of London with the Crossrail project (RG 11.07 p679).