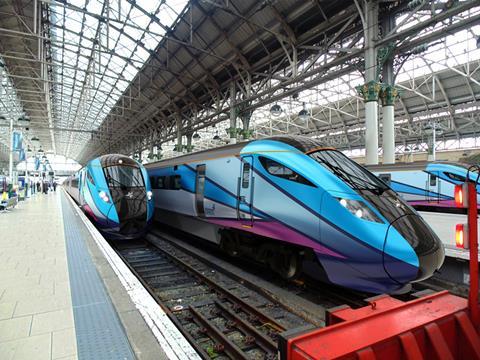 UK: No decision has been taken on the scope of the project to electrify the trans-Pennine route from Stalybridge near Manchester to Leeds, York and Selby, the Department for Transport told Railway Gazette on July 24.
Network Rail's electrification programme has seen significant cost overruns, and on July 20 the government announced the cancellation of the Cardiff – Swansea, Kettering – Nottingham/Sheffield and Windermere projects, saying the use of electro-diesel trains could offer similar passenger benefits without needing disruptive engineering works.
Comments made by Secretary of State for Transport Chris Graying during a visit to Manchester the following day led to concerns being raised that trans-Pennine electrification might also have been cancelled. 'We don't need to electrify all of every route', the Financial Times quoted Grayling as saying, explaining that there are sections of the route 'built in Victorian times' which are 'very difficult' to electrify, and where the use of bimode vehicles operating on diesel would be less complicated.
However, DfT has confirmed that this refers to the detailed scope of the project. Design work for electrification is still underway to the timescale announced when the project was 'unpaused' in September 2015, with firm plans to completed shortly ready for an investment decision to be taken next year.
Electrification is expected to be in place by 2022, although its extent may be altered from the original proposals in the light of developments in rolling stock technology; FirstGroup's TransPennine Express franchise has Hitachi bimode multiple-units on order, as well as CAF locomotive-hauled coaches ordered for initial use with diesel locomotives.
'Major upgrades to the Manchester – Leeds – York route are currently being designed and developed, to enable us to deliver better journeys for passengers from 2022', a DfT spokesperson told Railway Gazette. 'Passengers expect high quality rail services and we are committed to electrification where it delivers benefits, but will also take advantage of new technology to improve journeys.'
The cancellation of plans to electrify the Cardiff – Swansea main line does not affect the separate project to electrify the Cardiff Valleys network of local routes, the DfT has confirmed, with UK government funding still available for the project.