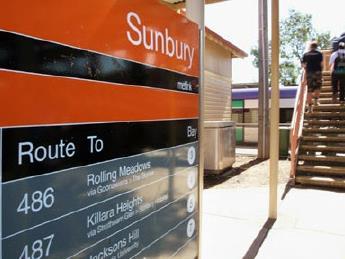 AUSTRALIA: The latest extension of the electrification on Melbourne's suburban network was inaugurated on November 18, when Victoria's Minister for Public Transport Terry Mulder boarded the first electric train to carry passengers from Sunbury.
The A$270m project to electrify the short section of the Melbourne - Bendigo line beyond the former limit of suburban operations at Watergardens serves two stations at Diggers Rest and Sunbury, which were formerly served only by V/Line trains to and from Bendigo. These will continue to call at Sunbury to provide interchange with local services.
Undertaken by the Sunbury Electrification Alliance of Public Transport Victoria, O'Donnell Griffin and Laing O'Rourke with Arup and BMD Construction, the project began in 2010. As well as installation of power supplies and overhead line equipment, work included new EMU stabling facilities at Sunbury and additional car parking at both stations.
Metro Trains Melbourne has introduced an enhanced service to and from the City Loop, with trains running to Sunbury every 12 min at peak times. These run non-stop between Sunshine and Footscray, augmented by additional stopping trains from Watergardens to provide a 6 min headway on the branch. Off-peak services run every 40 min, and trains are hourly in the evenings.
According to Mulder, completion of the electrification gives Sunbury and Diggers Rest an enhanced service of 489 trains, which is a 64% increase on the 298 trains/week previously operated by V/Line.