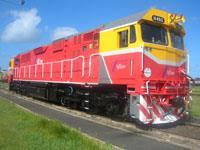 AUSTRALIA: Daily V/Line inter-city passenger services from Melbourne returned to Albury on June 26, the day after ceremonies were held to mark the completion of the North East Rail Revitalisation Project.
The project to increase passenger and freight capacity on the route between Melbourne and the border with New South Wales has been funded by infrastructure manager ARTC (A$285m) and the commonwealth (A$156·5m) and state (A$171·3m) governments.
The 1 600 mm gauge track on the 200 km between Seymour and Albury has been regauged to match the parallel Melbourne - Sydney inter-state standard gauge track, creating a double-track route. A 5 km bypass has been built around Wodonga to eliminate 11 level crossings, a new station opened at West Wodonga, and the existing Seymour - Melbourne standard gauge route upgraded. A total of 15 coaches have been refurbished and regauged and a new maintenance facility built.
There is initially one daily Melbourne - Albury service in each direction. A second is due to start in August, and by the end of the year there will be three daily return V/Line and two Countryline XPT services on the route, where passenger services have been replaced by road transport since 2008.
At a cost of A$210·4m, Victoria's state government has ordered an extra seven Alstom X'Trapolis six-car EMUs for use on Melbourne suburban services to Epping and Hurstbridge from 2013. Orders for 33 more are planned to follow.