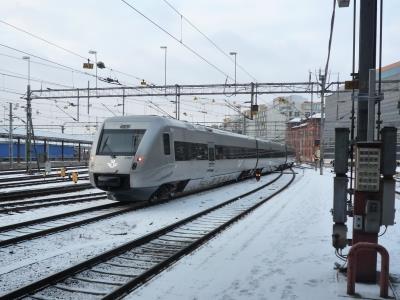 SWEDEN: The government announced on August 29 that the 150 km Ostlänken high speed line is to be constructed as part of a SKr55bn railway investment package intended to create jobs and economic growth.
Given parliamentary approval the construction of the double-track line between Järna and Linköping could begin in 2017 for completion no later than 2028. The SKr30bn project would see journey times between Stokcholm and Norrköping reduced by 20 min and Stockholm - Linköping by 30 min. Infrastructure manager Trafikverket is to start detailed planning for the railway imminently.
The current plan builds on the Swedish high speed railway strategy unveiled in 2008, which outlined a phased construction of a Y-shaped high speed network linking Stockholm with Göteborg and Malmö. Ostlänken will be the first stage of this proposed network.
Preliminary studies have already identified the best corridor for a 320 km/h alignment between Järna and Linköping. Between Järna and Norrköping, Ostlänken will follow the current main line, with a station at Skavsta Airport and a connection to the existing station in Nyköping. Between Norrköping and Linköping the railway will broadly follow the E4 motorway corridor.
A further section of the proposed Stockholm - Göteborg corridor will be created by double-tracking the Göteborg - Borås line between Mölnlycke and Bollebygd, for which SKr5bn has been allocated. Completion of the whole high speed line could see journey times between Stockholm and Göteborg reduced to 2 h 15 min, but the government emphasised that future expansion of the rail network would only be authorised if the country's finances allowed.
The remaining SKr20bn allocated in the investment package is intended to keep Traffikverket's maintenance and renewal spending at 2013-14 levels between 2014 and 2025, marking 30% increase on the level of expenditure that had previously been planned.