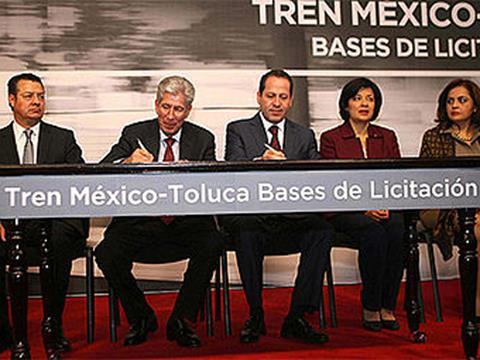 MEXICO: Secretary of Communications & Transport Gerardo Ruiz signed off tendering documentation for the project to build an electrified passenger railway from Mexico City to Toluca at a ceremony held on February 28.
The new line would run for 58 km from Observatorio, the western terminus of Line 1 of the Mexico City metro, to Zinacantepec in Toluca. Four intermediate stations would serve Santa Fe, Lerma, Metepec/Toluca airport and the bus terminal in Toluca.
Expected to open in December 2017, the new line would be operated with a fleet of 15 trainsets with a maximum speed of 160 km/h, giving an end-to-end journey time of 39 min.
According to Director General of Railway & Multimodal Transport Pablo Suárez, traffic is forecast at 270 000 passengers/day, which would remove 200 000 vehicles from congested local roads each day and reduce CO2 emissions by 34 500 tonnes. The project is expected to produce annual savings of 680m pesos.
Tendering was expected to start with a contract to undertake civil works on an initial 36 km of the route between Zinacantepec and La Marquesa, with bids due to be submitted by May 18 for the preferred bidder to be announced on June 10. Electrical and mechanical works, as well as the supply of the new rolling stock fleet, would be tendered separately.