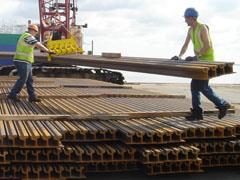 USA: Michigan-based Hougen Manufacturing has updated its Trak-Star HS16 hydraulic rail saw. The latest version is expected to provide faster cutting whilst being more comfortable to operate.
The saw has a 1105 mm frame with an ergonomic grip handle designed to reduce vibration. An arbour bearing supports the axial load during cutting, and the rail clamp can be adjusted by the operator. A locating finger is used to align the cut. The saw can be operated from either side of the rail head, and swapped without removal of the clamp if blade wear occurs.
The reversible hydraulic motor exerts a pressure of 138 bar; the saw weighs 18·6 kg without a clamp.