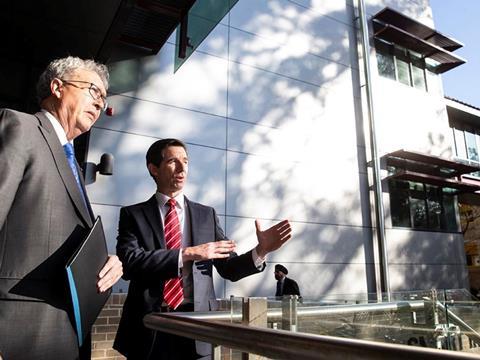 AUSTRALIA: The Australian Research Council's Industrial Transformation Training Centre for Advanced Technologies in Rail Track Infrastructure at the University of Wollongong was officially opened by federal Minister for Education & Training Simon Birmingham on May 23.
Intended to develop the next generation of track and infrastructure engineers, ITTC Rail will draw on expertise from across the rail sector, supported by eight universities from New South Wales and Queensland and 11 rail industry partners both national and international, including SMEC and China Railway Eryuan Engineering Group.
The A$7·3m project has been backed by an ARC grant of A$3·9m and A$3·4m in contributions from the project partners and the NSW state government. This makes it the first rail training centre to be funded by the Australian government. 'Our commitment to rail infrastructure investment will generate jobs, ease congestion in our cities, increase the capacity of our freight routes and better connect regional areas', said Birmingham.
According to ITTC Rail Director Prof Buddhima Indraratna, Australia's economic reliance on exports depends on the efficiency and reliability of its heavy haul railways in particular. However, there was 'a pressing need to upgrade ageing rail infrastructure', which would require 'a new generation of engineers with advanced knowledge and practice skills'. Making rail freight more cost-effective would also generate significant productivity benefits for the mining, manufacturing and agriculture sectors, which in turn would enhance the national economy, he suggested. With suburban operator Metro Trains Melbourne among the industry partners, ITTC Rail will also investigate potential benefits for commuter rail.
'Through the specialist training of industry-focused researchers, ITTC Rail will meet the challenge of designing, constructing and maintaining the rail network', he explained. 'This will involve close collaboration with companies in the rail supply chain, programmes to promote novel design approaches, and innovative fabrication of products using advanced manufacturing techniques.'