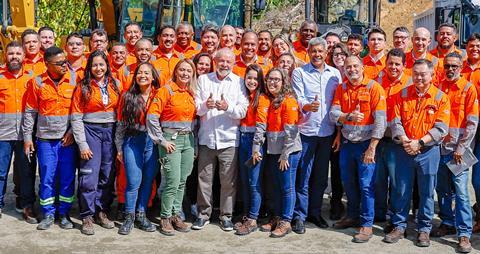 BRAZIL: Construction of the 537 km first phase of the Ferrovia de Integração Oeste-Leste project between the port of Ilhéus and Caetité was restarted on July 3 at an event in Ilhéus attended by President of Brazil Lula da Silva and Governor of Bahia state Jerônimo Rodrigues, as well as other state government officials.
Known as FIOL1, the project is in the hands of Bahia Mineraçao (Bamin) which in April 2021 was the sole bidder and winner of a 35-year 'sub-concession' to complete and operate the line, around 75% of which had been completed earlier.
The concession agreement for the route was signed in September 2021 with Brazil's Ministry of Infrastructure and covers five years for construction and 30 years of operation. Civil works to build the 127 km Lot 1F section of the line are expected to take around 36 months and generate around 1 200 jobs.
During the start of construction event Memoranda of Understanding were signed with China's CREC 10 railway construction company and Sinosteel 'for future co-operation on global opportunities'. CREC 10 had been awarded a R$1∙1bn construction contract earlier this year and is a member of the TCR-10 consortium which includes local company Tiisa.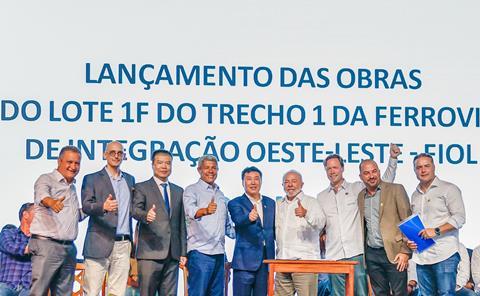 Bamin is responsible for about 30% of the remaining work on FIOL1. The other 70% is being handled by Infra SA, formerly the state-owned developer Valec, which had carried out initial work on the project. Construction was suspended in 2015 when the contractor's licence to build the line was withdrawn by Ibama, the Brazilian Institute of Environment & Renewal Natural Resources.
FIOL1 is being designed to handle 18 million tonnes of freight a year initially, rising to 60 million tonnes a year in the long term. Bamin will use 40% of the line's capacity to carry iron ore extracted from ERG's open pit at Pedra de Ferro mine south of Caetité, where pilot production was launched in December 2020. An initial fleet of 16 locomotives and 1 400 wagons is planned.
The remaining line capacity will be available to other companies in the industrial and agricultural sectors. Cargoes are expected to include soya beans and soya products, cement, petrochemicals and processed foods.
The line passes through 19 municipalities including Uruçuca, Ubaitaba, Gongogi, Itagibá, Aurelino Leal, and Aiquara.
Completion of the project had been planned for 2027, but in his speech at the start of work event President Lula called for work to be finished by the end of December 2026. Affirming that 'a country the size of Brazil needs to have a railway system to transport its wealth', Lula said that his country 'needs to commit to credibility and expertise. It is in the interest of national sovereignty to make the country increasingly competitive. We are going to restart this railroad and finish it in 2026. I want to thank the entrepreneurs for their trust, and for their willingness to carry out the FIOL1 project. If Bahia succeeds, so will Brazil.'
Benedikt Sobotka, CEO of ERG, said 'Eurasian Resources Group is proud to have officially started work on the FIOL1 West-East Integration Railway, one of Brazil's largest infrastructure projects. By acting as a key export and logistics corridor, the railway will significantly boost socioeconomic development in the wider region, and its construction is therefore a key milestone for both Bahia state and the country as a whole. We look forward to working with local stakeholders and our other partners to deliver this major project.'
Bamin CEO Eduardo Ledsham added that 'FIOL1 is a reality, with great economic development potential for Bahia. Many important projects are waiting for the required infrastructure to meet market demands and increase their bottom line. This will be possible because we are building, here in Bahia, the most efficient and sustainable logistics solutions. Above all, we will deliver a corridor of opportunities to leverage the economy of the municipalities and the quality of life of the populations within Bahia.'
Fiol is one of the projects in Brazil's Programa de Aceleraçao do Crescimento development programme. Integral to the scheme is construction of the Porto Sul deep-water port in the Aritágua district of Ilhéus which is to be served by a 12∙6 km branch from FIOL.
The Brazilian government is considering awarding a concession in 2024 for the next section of FIOL covering the 485 km from Caetité to Barreiras, where part of the work has been completed. Later, a concession is planned for construction of the 505 km from Barreiras to Figueirópolis, where the line would connect with the Norte-Sul Railway.
Bamin is a wholly-owned Brazilian subsidiary of Eurasian Resources Group, which is 40% owned by the government of Kazakhstan and has headquarters in Luxembourg.