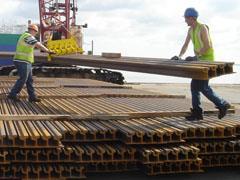 Australia: The TrackStar Alliance of Thiess, United Group Infrastructure, Aurecon and Aecom has been awarded a A$475m contract to build the 9·5 km Richlands - Springfield section of Queensland's Springfield suburban line by 2013.
China: Harsco has won orders totalling $11m to supply rail grinders to the Suzhou and Guangfo metros.
Czech Republic: In February a consortium of OHL ZS, Eurovia CS and AZD Praha began a KC4·9bn modernisation of Prerov station to raise speeds to 160 km/h by 2014. ESA11 electronic interlockings will make provision for ETCS Level 2.
Finland: SRV has won a €30m contract to build parallel 1·6 km tunnel bores under Otaniemi along with a station for the western extension of the Helsinki metro by September 2013.
The Finnish Transport Agency has awarded Pöyry a €4m contract to manage the second phase of modernisation of the Seinäjoki - Oulu main line, to be completed in 2014.
France: RATP has awarded Ansaldo STS a contract to maintain signalling on Paris metro lines 2, 3, 3bis, 6 to 12 and tram lines T1 to T3 for three years at a cost of €17·8m, with an optional two-year €11m extension.
Sytral has awarded Colas Rail a €12·2m contract covering track works for the 3·8 km Les Alizés - Eurexpo extension of Lyon tram line T2.
India: Concessionaire L&T Metro Rail has awarded a joint venture of Aecom and Feedback Ventures a five-year, US$17·6m planning and design contract for Phase I of the Hyderabad Metro, scheduled to open in 2016.
Chennai Metro Rail has awarded Mosmetrostroy a Rs9·3bn contract to build 6·4 km of tunnel for the 23 km Washermanpet - Airport line. Gammon will build seven stations for Rs10·1bn, and Siemens will provide 25 kV electrification for Rs3·1bn.
Siemens is to supply 750 V DC third rail electrification for the East-West metro line, Kolkata Metro Rail Corp announced on March 17.
Netherlands: ProRail has awarded Ballast Nedam Infra a €4·9m contract to build a two-platform station at Westervoort near Arnhem.
Norway: Jernbaneverket has sign­ed a framework agreement with Voest­alpine Schienen for the supply of rail.
Romania: Bucuresti metro operator Metrorex has awarded a consortium of FCC, Astaldi, AB Construct and ACM Delta a €267m contract to build the first 6·1 km of Line 5 from Drumul Taberei to Pantelimon with nine underground stations. Work will start in the second half of the year and take 25 months.
Singapore: Yongnam Holdings is to supply main contractor Samsung C&T with steel supports worth S$23·5m for one station and 1 km of cut-and-cover tunnel on the MRT North-South Line southern extension to Marina South.
Spain: A joint venture of FCC Construcción and Acciona Infraestructuras has been awarded a €1488m contract by ADIF to undertake additional works on the northern section of the Pajares base tunnel within 12 months. This includes further drainage and waterproofing works and provision of emergency walkways and cable ducts.
ADIF has awarded Thales Transport Signalling & Security Solutions a €282m contract to maintain signalling and train control equipment on the Madrid - Sevilla high speed line and its branch to Toledo for 215 months.
Sweden: Funkwerk IT is to expand the coverage of an existing Alister interlocking and Leonhard Weiss will undertake track works to modernise LKAB's Sjöbangården yard in Kiruna.
UK: Network Rail has awarded Carillion a £20m contract for 28 km of track works associated with the Reading station remodelling project which runs to 2016.
The Signalling Solutions joint venture of Alstom and Balfour Beatty has won a €25m contract to supply Smartlock 400 based low-cost modular signalling equipment for the 85 km Norwich - Ely route by July 2012. Use of identical computer modules is expected to reduce the project cost by 25% compared with previous approaches.
Network Rail has awarded Invensys Rail the installation contract for the Shrewsbury - Crewe modular signalling pilot programme, covering 45 km of bidirectional signalling and seven level crossings.
C Spencer has won a £2m contract to extend the platforms at Loughborough station for 10-car trains and construct an accessible footbridge.
Ukraine: UZ is working with Khartep Ltd to develop satellite-based train location and voice announcement systems on its Kharkiv - Pasa­zhyrsky - Kazachia Lopan line.